---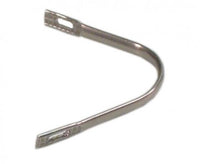 Our Orthodontic Lingual Bars are manufactured using preformed stainless steel wire. Lingual bars are used for fabricating Gelb TMJ Splints, Bruxism appliances, lingual arches and partial dentures.  
The "mm" size is determined by measuring the entire length (tip to tip) of the lingual bar using a flexible ruler.  Our machines typically make this measurement when the metal is straight and before it is coined into the final shape.  
Sold in packages of 10 each.