---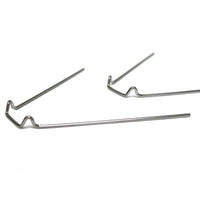 We are waiting on wire for Adams Clasps and we are being told it won't be here until December :(   Any out of stock sizes won't be replenished until then unless our wire arrives sooner.
Please be assured that we make every effort to keep price increases to a minimum, but after carefully analyzing our increased raw material & overhead costs, we have had to increase the price of some of our wire and wire products as new shipments arrive. 
We are committed to offering you the quality you expect and deserve, and want to  continue to source the best possible materials & experienced machinists.  We greatly appreciate your continued business and support through this time.
Bending your own adams clasps can be extremely challenging & frustrating.  If you want to save time (and money by avoiding distorted parts), our pre-formed adams clasps will help!  We make them right here in our shop where we visually inspect and hand-pack them.

Our Pre-formed Modified Adams Retainer Clasps are very strong & resistant to breakage, and are made using medical grade, 3/4 (medium hard) spring temper stainless steel wire.  We use this type of wire because it is not as soft as full hard wire, therefore it is more resilient.  
Adams Clasps (also called Liverpool Clasps, Universal Clasps, or Modified Arrowhead Clasps) are the most commonly used retention component for removable appliances, and also the most versatile.  They are used as bicuspid and molar components in creating orthodontic retainers.  
We sell orthodontic straight wire here and this is a great YouTube video by Retainer Designer for those interested in bending their own wire.
Sold as 100/pack