---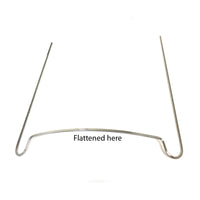 Please be assured that we make every effort to keep price increases to a minimum, but after carefully analyzing our increased raw material & overhead costs, we have had to increase the price of some of our wire and wire products as new shipments arrive. 
We are committed to offering you the quality you expect and deserve, and want to  continue to source the best possible materials & experienced machinists.  We greatly appreciate your continued business and support through this time.
Our Labial Bow Archwires with Flattened Anterior Section.  These Hawley bows are manufactured using high quality, bright finish medium-hard (3/4 hard) medical grade, stainless steel wire.
Please note:  Labial arches are measured loop to loop from the outside edges.  Flatbows are measured from loop to loop on the inside edges. 
We have converted our Flatbow sizes to our FLATTENED labials and the printable PDF chart here should help you figure out which flattened labial you are requiring.  Available in regular and small loop.
Sold in package of 12.