---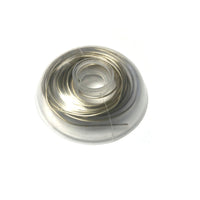 .025 Orthodontic Silver Solder can be used to braze gold, silver or stainless steel.
Cadmium-free
Lead-free
.025 in diameter
22 gauge
5 DWT

 

(pennyweight)

 - equal to 1/4 troy ounce

Length is approximately 8.5 feet

Melting temperature is 1220°F or 660°C.

Silver content: 50%

Recommended for soldering Series 300 Stainless Steel wire, which is mainly used in fabricating orthodontic lab wire products.
* If you wish to save money by ordering a larger spool, we also carry 80 DWT (pennyweight) (which is 4 troy ounces).  
NOTE:  We reserve to change prices when necessary.  Silver solder prices vary due to the fluctuating precious metals market - we base our pricing on the price we pay for raw materials and it only changes each time we re-order raw material, not according to the daily precious metals market.