---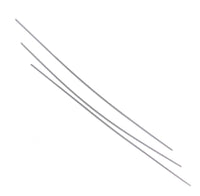 The Nickel Titanium Variable Force Open Coil Compression Springs come in .010 x .036 and are unlike super elastic springs, which exhibit a relatively constant force depending on the wire size & lumen. 
The variable force springs allow the technician to generate the force he or she needs with one spring. 
These springs have been designed to gently increase force as the spring is compressed, so the doctor may utilize one spring to exert the optimum force needed.
Sold 3 springs per tube.