---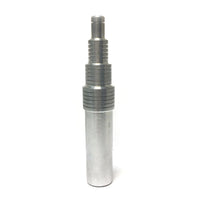 The Small (with Handle) Labial Forming Mandrel is for lab technicians who prefer to form their own labials. The labial turrets have 4 levels/grooved settings and are made of high shine aluminum; can be used for shaping other orthodontic wires (up to .032 size).
Dimensions:   The mandrel is 2 3/4" L  with a handle of about 2.5"  - Total length is 5 1/4"
We also sell a large mandrel here.
Sold individually.