---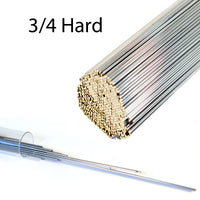 Dates we expect out-of-stock items to be back in stock:
.036 3/4 hard - December 27, 2023
.040 3/4 hard - March 7, 2024
Please be assured that we make every effort to keep price increases to a minimum, but after carefully analyzing our increased raw material & overhead costs, we have had to increase the price of some of our wire and wire products as new shipments arrive. 
We are committed to offering you the quality you expect and deserve, and want to  continue to source the best possible materials & experienced machinists.  We greatly appreciate your continued business and support through this time.
3/4 (Medium-Hard) Spring Temper Stainless Steel Orthodontic Retainer Wire is the same wire we use in-house to manufacture our own preformed orthodontic wires. 

This wire can be used for forming adams clasps, labial bows and labial arches.
Manufactured with 304V (Vacuum Arc Remelted) which yields a more uniform chemistry with minimal voids and contaminants.  The ease of joining with solder or welding, combined with excellent strength, makes it desirable. 
These are 14" in length.  Bulk wire will now come tubed.